Interested in attending TECH Freire Charter School?
TECH Freire Charter School is seeking students who want to go to college… and want to work hard to get there. Freire students consistently defy local and national statistics as almost 90% of Freire graduates are enrolled in college within two years of graduation. More importantly, almost 90% of these graduates return back to college for their second year of college. Freire truly prepares students for college. Period.
Please note that applications received after January 26th, 2018 will be assigned a wait list number on a first come, first served basis.
Apply online for the 2018-19 school year!
2018-19 Solicitud de Admisión en Español
Apply online for the current 2017-18 school year!
2017-18 Solicitud de Admisión en Español
You can apply online by clicking the links above! If you would prefer a paper application, print and complete the PDF application below and return it to the TECH Freire Admissions Office, at 2221 N. Broad Street, as soon as possible.
English:
2018-2019 Application for Admission – PDF
2017-2018 Application for Admission – PDF
Español:
2018-2019 Solicitud de Admisión – PDF
2017-2018 Solicitud de Admisión – PDF
中国:
入学申请表 2018-19 学年 – PDF
入学申请表 2017-18 学年 – PDF
Do you live in TECH Freire's catchment area?
TECH Freire is still offering an admissions preference to students who live in the Strawberry Mansion catchment area. Click on the image below to see a detailed map highlighting the boundaries of this catchment area. If you live inside the area shaded on the map below, your application to TECH Freire has an excellent chance of being accepted! Send in your application today!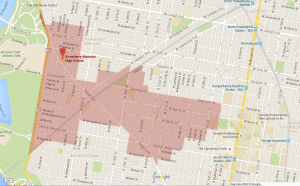 If you have any questions, please contact Chelsea Reich at chelsea@techfreire.org. As always, if you are not able to apply online or print an application and would like us to mail you a paper copy, let us know and we will send you an application right away.